We had the pleasure of listening to and working with David Michael Miller and his amazing band "Miller and The Other Sinners", Wow what a great experience. David and his entire band are absolutely a fine group of excellent musicians and gentlemen.  David Miller and The Other Sinners is a fabulous band to work with. The band is very talented and engaging. There unique soulful blues with a bit of southern spice is a style all their own. The crowd enjoyed them so much we are having them back and Miller and The Other Sinners are welcome at our entertainment restaurant & club anytime.
Since there performance at Sound Bites Grill we have had tons of people asking; when will they be returning?
Professional, talented and crowd pleasers, we look forward to their return.
Stephen & Michele Sullins - Owners/Managing Partners - Sound Bites Grill, Sedona AZ
Vintage Guitar Magazine says:
"This makes it two in a row for David Michael Miller. His Poi-sons Sipped was one of last year's surprise albums, introducing us to a songwriter, guitarist, and singer who is the whole package. Same Soil builds on that with its clear understanding of the blues, soul, and everything in between. Throughout it all, Miller's guitar play-ing is more than solid, supplying the mojo for most of the songs. His deep growl is fiercely soulful and he soars into upper registers, calling to mind the late Chris Whitley at his finest.  While working in what could loosely be called the blues, Miller covers a lot of ground. "All The Blues To You" is swampy funk. "Just Ride" shows off his patience in letting the groove control things. He and his band's willingness to let the song grow, along with the incredible use of dynam-ics, is one of many aspects that make his music some of the best out there today. Miller handles all the guitar parts perfectly. Whether swinging slide work or on-the-money rhythm, it all fits. – John Heidt"
 
What is SOUTHERN SOUL?
A sweet blend of blues/gospel/americana/r&b with a splash a cayenne pepper.
This is what David Michael Miller and his band, Miller and The Other Sinners bring to the table.
NEWS:  David's last studio album, SAME SOIL, ended up at #34 of the TOP Blues Albums played on radio WORLDWIDE according to the Roots Music Report (3+ months in the top 15)!!!
PRESS/PROMOTERS/VENUES:
Miller and The Other Sinners
is currently touring the US, so contact us for booking info:  
booking@davemillermusic.com
 .. 
Our
Electronic Press Kit (EPK) is HERE
, promotional images and materials are available for download
HERE
. 
This is what Selwyn Birchwood, Alligator Recording Artist, and winner of Blues Music Award for "Best New Artist Debut!!" said about David Michael Miller's 2014 breakout solo record, Poisons Sipped:

"Poisons Sipped is a perfect cocktail of Blues, Soul, and Gospel flavors! Do yourself a favor and treat your ears to one of the best albums of the year!" 

and here is what Selwyn has to say about Miller's follow up album, Same Soil, releasing July 1st, 2015
"Same Soil is a splendid example of how versatile this artist is.  David Michael Miller is as diverse as he is soulful!"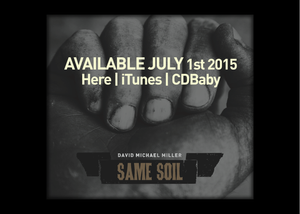 SAME SOIL is a tribute to the fertile blues/roots tradition influencing David Michael Miller's unique style, following the heels of his breakout album, Poisons Sipped. Co-produced, mixed and engineered by Grammy Nominated producer, Mike Brown, at Temperamental Studio (featured on American Pickers), over half of this album was tracked with pre-WWII instruments and using old mic'ing techniques.  Along with the vintage equipment, David brought in a host of veteran players to bring the songs to life including keyboardist Jim Ehinger (Bonnie, Raitt, Albert Collins, Billy Vera and The Beaters), saxophonist Jason Moynihan (Buddy Guy) and drummer Carlton Campbell (of The Campbell Brothers).  David explores songs inspired by Muddy Waters, Jimmy Reed, Bo Diddley as well as a blend of americana, soul and gospel influences.
The album features songs that take the listener from hard driving acoustic blues, through greasy shuffles, gospel beats, slow moody  ballads, on to funky blues rock and concluding with a heart wrenching song written to honor his grandfather who passed on during the recording of the album.